The Italian F4 Championship powered by Abarth is starting again with the second round at Misano Adriatico (RN), taking place from Friday 17th May with the free practices. There's a new name in the list this time, Pietro Delli Guanti, the young BVM Racing's driver debuting on the Tatuus after a promising kart career.

Still great participation with 31 drivers ready for the Misano World Circuit Marco Simoncelli's starting grid, divided among the 14 teams present, coming from more than 20 different countries. The most numerous group is the Italian drivers' one, with 9 registrations, among which the Emilian Marco Simonazzi (Cram Motorsport), born in Reggio Emilia, that will race in his home circuit.

Numbers that confirm the great interest of the drivers to the Italian F4 Championship powered by Abarth which, already in the opening two weeks ago in the first ACI Racing Weekend under the rain of the Piero Taruffi Circuit in Vallelunga (RM), has already shown evidence of high level competition.

The countdown for this racing weekend, the second of seven of the championship, has started and now sees the Brazilian Gianluca Petecof leading the classification for the drivers and Prema Powerteam for the teams.

It will be possible to follow all the three F4 races of the weekend live on Motorsport.tv (in English and Italian) and on AutomotoTV, or in streaming on acisport.it website and on the championship Facebook page (https://www.facebook.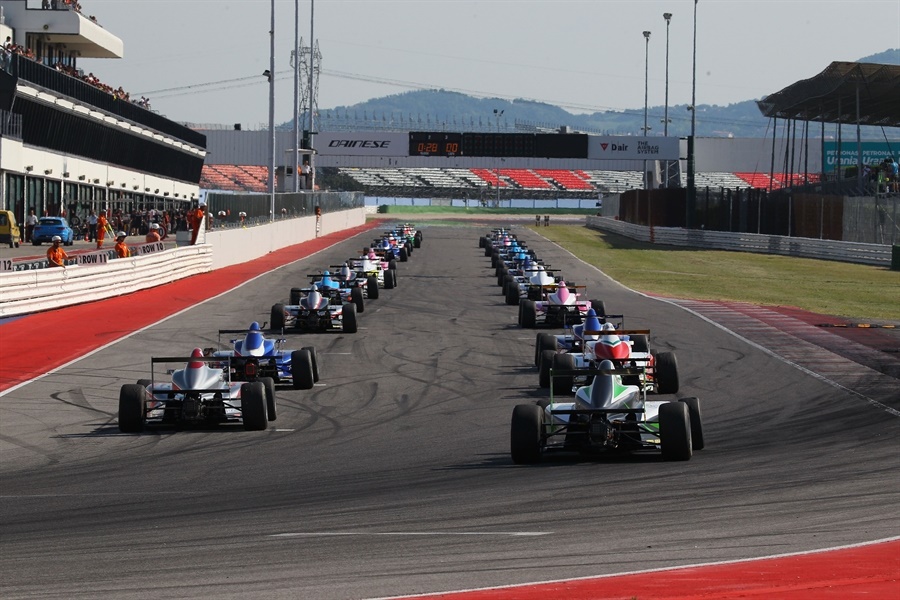 com/italianf4championship/), in Italian.

PROGRAM
Friday 17th May
h. 10.10 – 10.50 - Free practice 1
h. 14.40 – 15.20 - Free practice 2

Saturday 18th May
h. 11.05 – 11.20 - Qualifying 1
h. 11.30 – 11.45 - Qualifying 2
h. 16.40 - Race 1

Sunday 19th May
h. 9.00 - Race 2
h. 14.40 - Race 3